Biomass systems are also known as a wood fuelled heating systems. They burn wood pellets, chips or logs to provide warmth in a single room or to power central heating and hot water boilers.
A biomass stove burns logs or pellets to heat a single room and may be fitted with a back boiler to provide water heating as well. A biomass boiler is connected to a central heating and hot water system.
You should consider the space you have available for both the boiler plant room and fuel storage. The larger the storage facility, the less fuel deliveries you will need.
The design of any heating system is critical to its success. Thermatech have had over 20 years of industry experience in design and installation of domestic and commercial biomass.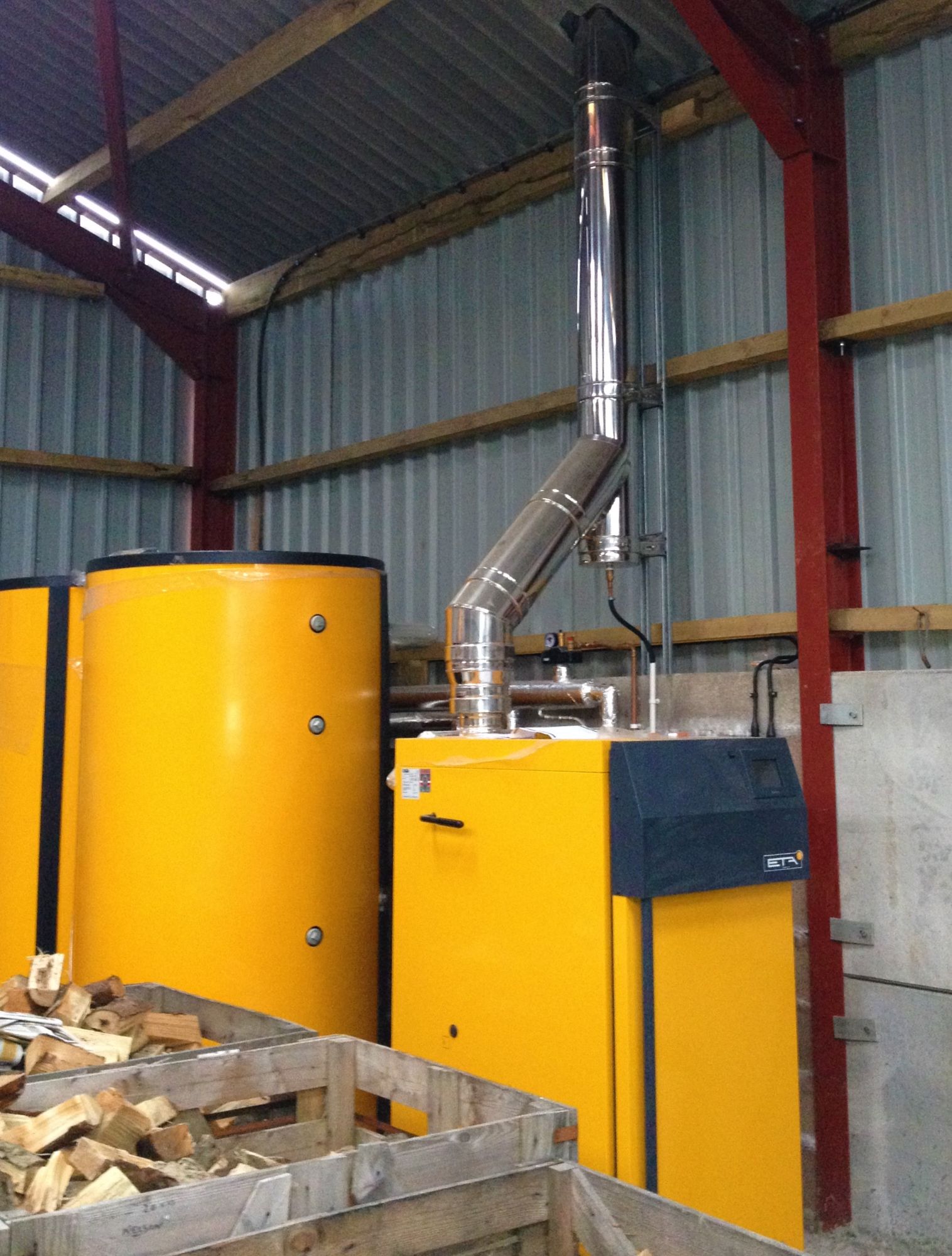 Reduce your electricity bills and cut your carbon footprint.
You could be eligible for a grant from the Boiler Upgrade Scheme.
Every stove or boiler will need an appropriate flue. You will need a flue which meets the regulations for wood-burning appliances. This could be a new insulated stainless steel flue pipe or an existing chimney, though chimneys normally need lining to make them safe and legal.
Boiler vs stove: Boilers can be used in place of a standard gas or oil boiler to heat radiators for a whole house, and to heat the hot water. Stoves are used to heat a single room, usually in conjunction with other heating systems, but may also have a back boiler to provide hot water.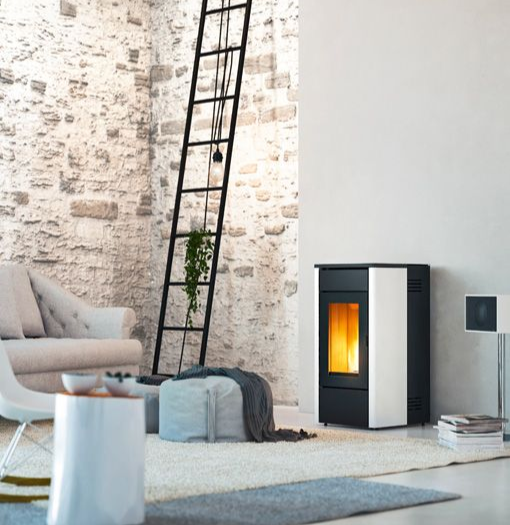 Chips are used to heat larger buildings or groups of houses.
Pellets are much easier to use and much more controllable than logs. Pellet boilers can run automatically in much the same way that gas or oil boilers operate. Most pellet and chip burners use automatic fuel feeders which refill them at regular intervals.
Log burning stoves and boilers have to be filled with wood by hand and require considerably more work. You will need a lot of logs to heat a whole house, but they can be cheaper than pellets if you have a good local supply.
ETA eHACKWood Chip Boiler 20 to 240 kW
Fully automatic, space-saving, extremely economical operation and especially environmentally-friendly: the eHack from ETA already fulfils the requirements and demands of tomorrow.
Multi occupancy buildings, businesses, commercial buildings, agricultural companies and local heating networks: larger buildings can be heated more efficiently with wood chips. The ETA eHACK is the optimum heating boiler for this. It is available with heating outputs of 20 to 240 kW and can be operated with wood chips or wood pellets.
Sophisticated systems are at work in the ETA eHACK: in combination with the ETA combustion regulation, the lambda probe provides for the highest efficiency, even with varying fuel qualities. This team guarantees that the right amount of oxygen is constantly supplied to the respective fuel. The single chamber rotary valve developed and patented by ETA is a guarantee for safe operation. It reliably prevents the fire from the combustion chamber from reaching the fuel store. Wood pieces that are too long are simply cut.
ETA Pellets Compact 20 - 105 kW Small Boiler Outstanding Performance
This is one of our most popular pellet boilers.
The ETA Pellets Compact needs little space and is the ideal pellet boiler for renovations or new builds of larger residential buildings and office spaces.

It is approxiamtely 130 cm high, about one meter long and nearly 95 cm deep - but it heats large residential buildings or small company buildings.
This popular compact boiler can be installed virtually anywhere.
The ETA Pellets Compact (only for 20- 32 kW) can be operated with external air , i.e. the combustion is supplied with oxygen from the outside. This means that the boiler can also be situated in heated buildings or in rooms with comfort ventilation. In fact, the ETA Pellets Compact looks so good that you can even set it up where it is visible!
ETA Log Boiler 20 to 60 kW Affordable & Convenient
Heating with wood is extremely economical, even if you don't own a forests of your own.
ETA has the ideal solution for those who want to use extremely affordable wood fuel and still want to enjoy the full benefits of fully automated comfort. The ETA TWIN consists of two fully-fledged boilers that perfectly complement each other. The ETA SH log boiler can be ordered with a flange on which a fully automated pellet boiler can simply be connected – years later without converting the heating system or the chimney connection.
Both boilers of the ETA TWIN work together perfectly. It lets you know if the fuel runs out in the log boiler. If no fuel is added over a freely selectable time period, the pellet boiler automatically starts working – until you add fuel again to the log boiler. So your home stays warm even if you are not there for some time.